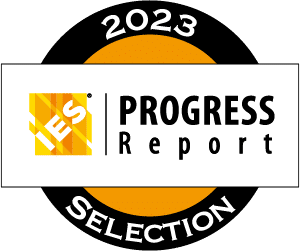 2023 marks the tenth year in a row that GREEN CREATIVE has met the IES's standards for innovation and performance in the lighting industry.
The Progress Committee's mission is to keep in touch with developments in the art and science of lighting throughout the world and prepare a yearly report of achievements for the Society. Acceptance is based on an impartial judging process used by the committee to evaluate each submission on its uniqueness, innovation, and significance to the lighting industry.
Anchored by strong integrated R&D capabilities and patented technology, GREEN CREATIVE's innovation, performance and reliability have been recognized year after year by the Illuminating Engineering Society Progress Report. Congratulations to below six innovative and first-to-market products from GREEN CREATIVE that are proudly selected by the IES Progress Report in 2023, each one illustrating our relentless drive to innovate.
— 2023 IES Progress Report Selections —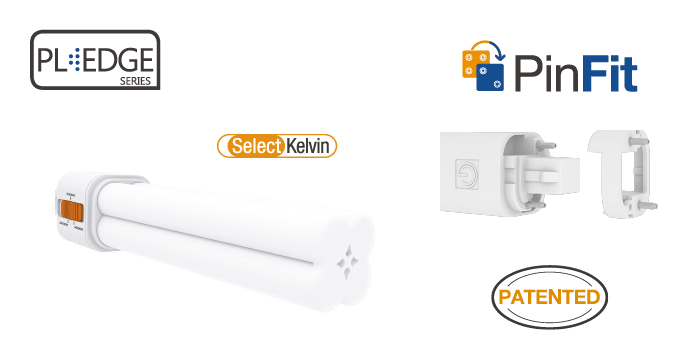 CCT Select PinFit PL Omni
Evolution in Retrofitting

In addition to all the great benefits of PinFit PL Omni lamps, the CCT Select PinFit are now also equipped with SelectKelvin technology, allowing for selectable color temperatures among 3000K, 3500K and 4000K for customized atmosphere in the field.
The patented modular socket design allows for easy switching of the lamp socket from 4-pin mode to 2-pin mode in the field for great installation versatility. An embedded universal driver allows the lamp to perform in electronic ballast, magnetic ballast, or no-ballast environments, providing optimal field flexibility. The lamps can be installed either vertically or horizontally for 360° light distribution. CCT select PinFit is your best choice for all fluorescent PL lamps retrofitting projects regardless of the lamp bases, ballast types, installation orientations, or color temperature requirements.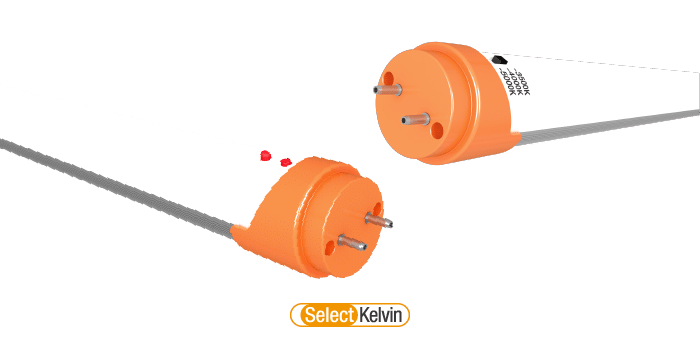 CCT Select Emergency T8
Industry's First CCT Select Emergency T8
Powered by SelectKelvin technology, the emergency T8 LED tube from GREEN CREATIVE provides maximized flexibility and optimized stock management.
The tube is engineered for providing all-in-one solution for both general and emergency lighting in three selectable color temperatures with integrated SelectKelvin switch, offering 6 SKU combinations with only 1 SKU in stock.
In case of power outage, it offers 90 minutes of light at 600lm under emergency use, exceeding the minimum illuminance requirement in most applications. The integrated real-time self-test design will perform continuous testing and monitor the battery status any time. Manual testing is also possible with the easy-accessible test button. No accessory kit needed.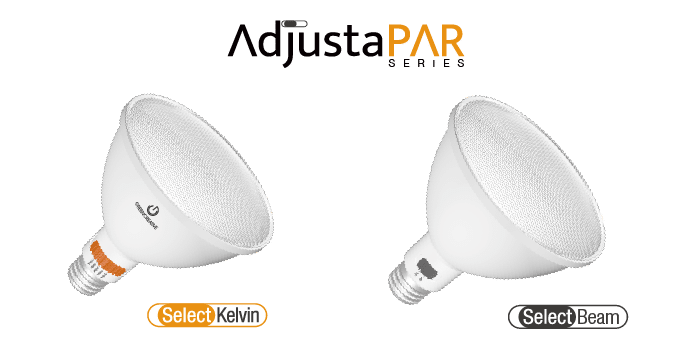 AdjustaPAR Lamps
Industry's First Fully Selectable PAR Lamp

Powered by SelectKelvin and SelectBeam technologies, the game-changing new AdjustaPAR series of lamps allow for selectable beam angles and selectable color temperatures with just a flip of switch, creating diversified lighting schemes in the field from just one lamp.
The integrated CCT select switch allows for easy selection among five color temperatures in 2700K, 3000K, 3500K, 4000K and 5000K, for customized ambiences in any space. Integrated beam angle switch enables effortless control over the spread of the light distribution between narrow flood 25° and flood 40° beam angles.
Available in PAR30, PAR30SN, and PAR38 sizes, each adjustable to five color temperatures and two beam angles, AdjustaPAR lamps realize 90% stock management savings for distributors, enable ten times field customization possibilities for installers, and provide end-users with a future-proof lighting solution that can upgrade and evolve with the changing needs of your space.
Stay Tuned…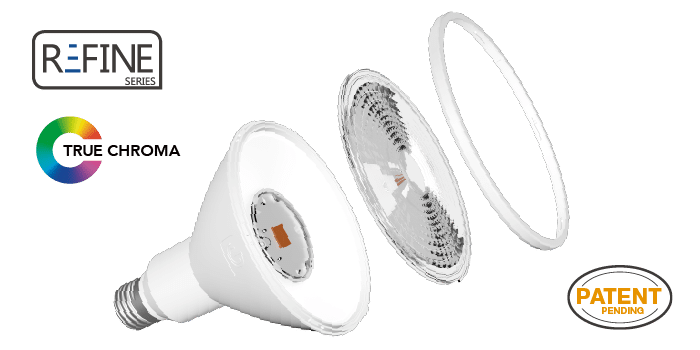 REFINE PAR Family
Setting New Standards in Versatility and Performance
Thanks to the patent-pending field interchangeable lenses system design, our latest REFINE PAR lamps provide one-stop solution for specification grade PAR lamps with the most extensive range of 102 SKUs. Setting new standards in versatility and performance.
The series includes PAR20, PAR30, PAR30SN, and PAR38 sizes, available in white or black finishes, providing light output from gentle 520 lumens to powerful 1,420 lumens. Beam angles selections include spot 15o, narrow 25o and flood 40o beam angles. CCT options include 2700K, 3000K, 3500K, 4000K and 5000K. 120V models are dimmable with most existing dimmers, and 120-277V models are also available for commercial lighting applications.
GREEN CREATIVE's proprietary REFINE lens efficiently delivers powerful light with intense CBCP and even light distribution without glare. TRUE CHROMA technology ensures best in class color rendering and color consistency. ENERGY STAR certified and California Title 24 JA8 compliant, the REFINE PAR lamps deliver superior light quality with most extensive product options.
Stay Tuned…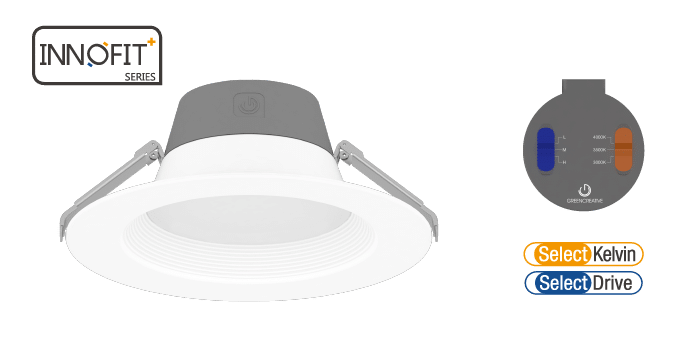 INNOFIT Plus Commercial Downlights
Unrivaled Efficiency. Upgraded Flexibility.

The INNOFIT Plus pairs industry leading efficiency with upgraded flexibility.
Powered by both SelectDrive and SelectKelvin technologies, this new and improved downlight family offers 3 field-selectable light output levels and 3 color temperature selections. One product provides nine unique combinations of light output and color. With an industry-leading efficacy of up to 140 lumens per watt, installing the INNOFIT Plus offers maximum energy savings and results in a swift ROI.
The new INNOFIT Plus is offered in 4", 6", 8" and 9.5" sizes with models available for either 0-10V or 120V TRIAC/ELV dimming systems. The previous generation of INNOFIT with dedicated CCT is still available with 6″ and 8″ 0-10V dimmable models.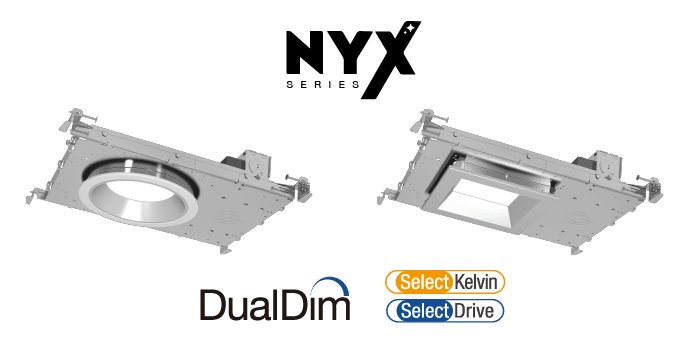 NYX New Construction Downlights
Downlighting Reborn
With integrated SelectDrive, SelectKelvin and DualDim technologies, abundant options of field installable accessories, and unique compact design, NYX revives customized downlighting design for any new construction project.
SelectKelvin technology provides five choices of CCT in 2700K, 3000K, 3500K, 4000K, and 5000K. SelectDrive technology allows for selecting among four light output levels from smooth 700lm to powerful 4,000lm. All NYX products also feature our DualDim technology, enable dimming with either 120V TRIAC/ELV or 0-10V controls with only one product.
Available in 4″ and 6″ sizes with a total depth of less than 4″ including the Jbox, round and square shapes, as well as a galaxy of reflectors options and finishes, engineered with both performance and design in mind, NYX is a perfect choice for any new construction or direct mount installations.
— 2022 IES Progress Report Selections —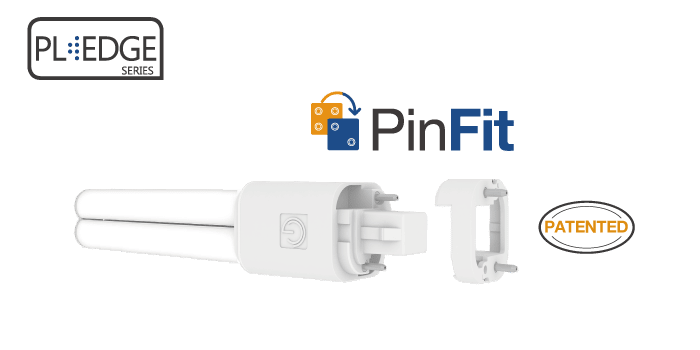 PinFit PL Omni
Evolution in Retrofitting

A patented modular socket design and embedded universal driver make the PinFit PL Omni suitable for any PL Lamp retrofit application.
The proprietary modular socket design allows for easy switching of the lamp socket from G24q to G24d in the field for great installation versatility. An embedded universal driver allows the lamp to perform in electronic ballast, magnetic ballast, or no-ballast environments, providing optimal field flexibility. The lamps can be installed either vertically or horizontally for 360° light distribution. 6.8W and 9W PinFit lamps available in four color temperatures replace most CFLs. UL classified and listed for both direct and bypass installations.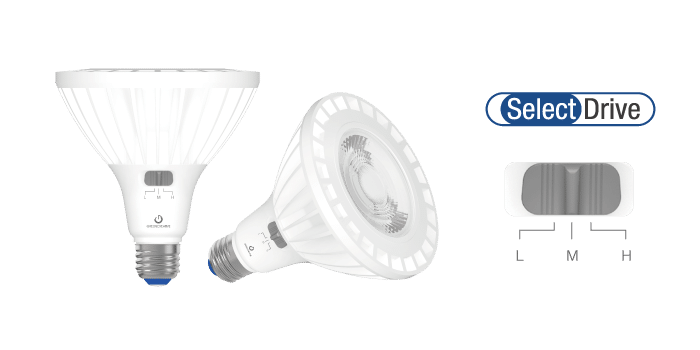 SelectDrive PAR38 HO 277V
Powerfully effective. Extra flexible.
Pioneering field-selectable PAR38 HO lamps delivering exceptional efficacy and flexibility for both residential and commercial use.
SelectDrive PAR38 HO was selected as the first selectable lumen output PAR38 with 277V capability. Generating up to 2,500 lumen light output, the lamps are suitable to replace 250W halogen light sources. Featured with our SelectDrive technology with 3-level power output options, the PAR38 HO lamps cover much more sellable SKUs at greatly reduced stock management cost and provide better flexibility of adjustable lumens to clients in the field. Options of four color temperatures and two beam angles are available for retrofitting in most general lighting applications in a wide range of residential, commercial, and industrial settings.
— 2021 IES Progress Report Selections —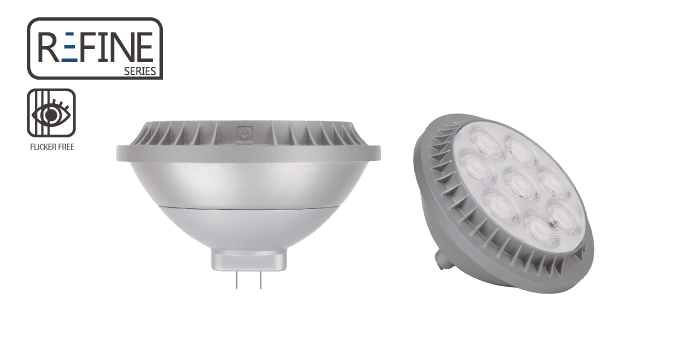 REFINE PAR56
Remarkable efficiency and performance during dimming
The 40W lamp provides an impressive 34,000-candela output and is capable of producing steady, flicker-free light even when dimmed below 1%. Easy installation, flicker-free dimming, and high candlepower with minimal glare make GREEN CREATIVE's PAR56 ideal for offices or retail spaces, as well as public venues such as theaters and churches. Suitable for damp locations, this 40W lamp replaces 300W halogen lamps and lasts up to 25 times longer. The PAR56 has an L70 lifetime rating of 50,000 hours and a 1:1 halogen form factor for quick retrofits.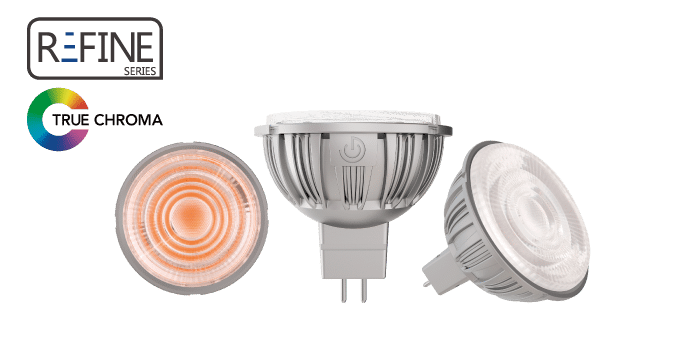 REFINE MR16
Superior efficiency and premium color accuracy
The REFINE series incorporates GREEN CREATIVE's TRUE CHROMA technology to deliver best-in-class color accuracy (95 CRI minimum) at efficiency levels that exceed all standards including California's Title 20 regulations. Suitable for replacing 42W, 50W, and 75W halogen lamps, the series offers 120V GU10 and 12V GU5.3 models with four beam angles, three color temperatures, and compatibility with forward-phase and reverse-phase dimming controls.
— 2020 IES Progress Report Selections —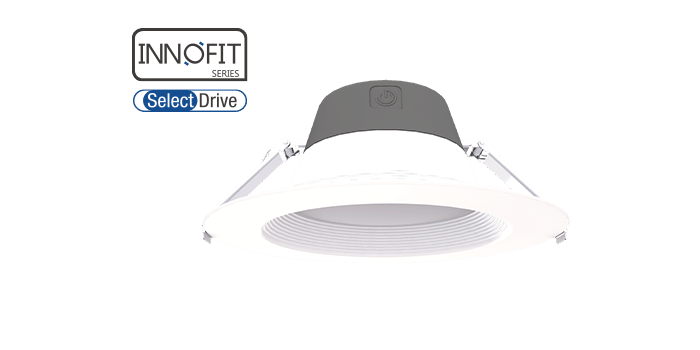 INNOFIT GEN 2
Highest efficacy selectable lumen commercial retrofit downlight
Recognized as the pioneer in power selectable commercial downlights, GREEN CREATIVE expanded on that leadership with the INNOFIT GEN 2.  Providing over 130 lumens per Watt, the INNOFIT GEN 2 has the highest fixture efficacy for commercial retrofit downlights in the market today.  Now featuring a longer lifetime, 120V or 0-10V dimming,  Air-Tight, IC and Wet Location ratings, the INNOFIT GEN 2 expands it leadership position in the market.  Progress runs in the INNOFIT family.
Learn product details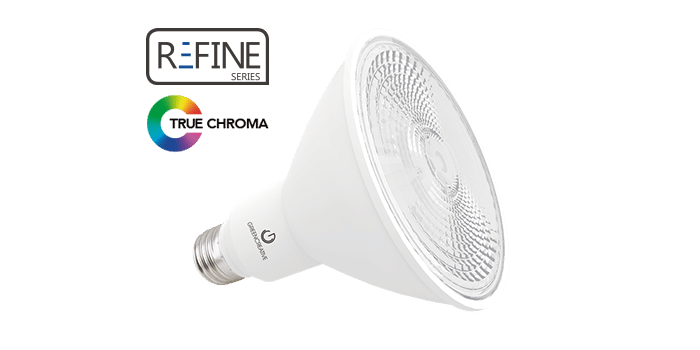 REFINE POWERED BY TRUE CHROMA
Best lifetime and efficiency for a 95+ CRI PAR lamp
REFINE PAR lamps, powered by TRUE CHROMA, provide excellent color rendering quality of CRI 95 and Rf 93 minimum, and are selected for the best lifetime and efficiency for a 95+ CRI PAR lamp. The proprietary optical system sets a new standard for color accuracy and at the same time achieves high efficacy up to 94 LPW. Use REFINE powered by TRUE CHROMA on your most demanding applications and exceed your customer's expectations!
Learn product details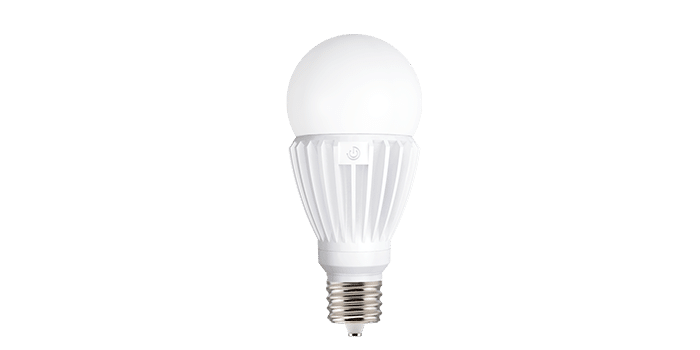 PS30 LAMP
Highest light output and ambient temperature range in its class
PS30 lamps from GREEN CREATIVE are selected as the highest light output and ambient temperature ranges PS30 lamp. These lamps provide light output of 5,000 lumens and allow for ambient temperature at 60° maximum. Designed to replace up to 175W HID lamps, the A-shape lens provides omnidirectional light distribution with a 240° beam angle, perfect for a variety of commercial and industrial applications.
Learn product details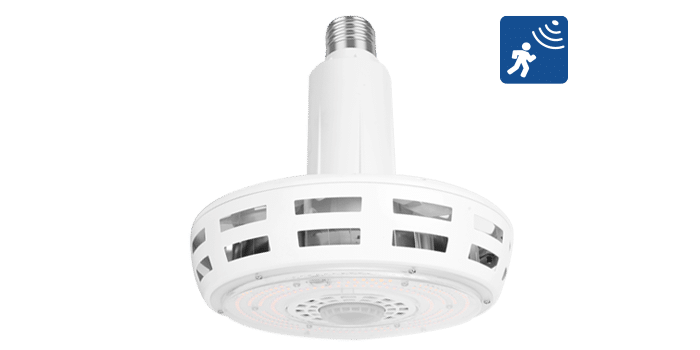 400W REPLACEMENT HID HIGHBAY LAMP
Highest light output and multi-function sensor option
The 400W replacement HID highbay lamps provide the highest light output of 20,000 lumen, exceptional efficacy of 150 LPW, and an L70 lifetime of over 50,000 hours. The lamps are also provided with optional integral multi-function sensor to maximize energy savings and promote compliance to building codes. Motion sensing, daylight sensing, and bi-level dimming functions allow the light to be dimmed or turned off in unoccupied or daylit areas, leading to massive energy savings.
Learn product details