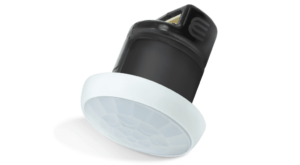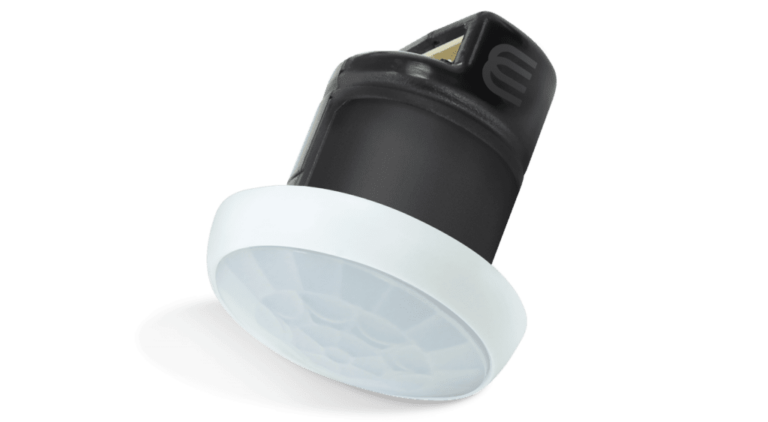 ENLIGHTED'S ADVANCED WIRELESS LIGHTING CONTROLS
The Enlighted IoT platform includes the most advanced wireless lighting control capabilities in the world. The system consists of a wireless network of patented sensors installed into or adjacent to the light fixtures and connected to an advanced analytics platform.
The sensors control lighting based on customized profiles, then capture and respond to data indicating changes in occupancy and ambient light levels. They maintain programmed behavior even if outages affect network health.
Enlighted sensors provide out-of-the-box compliance with energy use regulations. The sensors' capacity for vacancy detection, daylight harvesting, demand response, and energy savings reporting, makes it easy to meet and exceed guidelines.
Enlighted transforms light fixtures into wireless IoT-enabled building intelligence solutions. Measuring ambient light, motion (PIR), energy consumption, and temperature, along with Bluetooth® capabilities and wireless connectivity.

THE POSSIBILITIES ARE ENDLESS
Enlighted's proven lighting control systems are reducing energy costs by 85% or more in over 320 million square feet of building space. And because their solutions are future-proof, you can add unlimited high-value IoT applications as they become available in the future.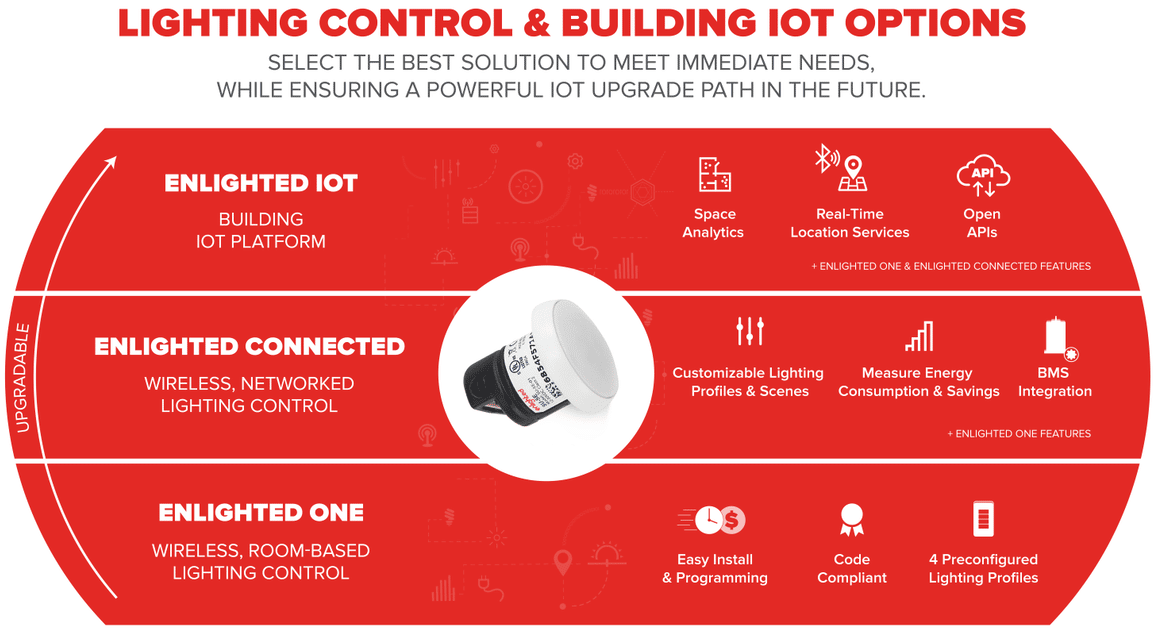 AS OCCUPANT NEEDS EVOLVE, SO WILL YOUR BUILDINGS
Enlighted now offers its products in three upgradeable tiers of functionality. Select the optimal solution that meets your immediate needs, while simultaneously establishing a powerful upgrade path for when your requirements change or grow.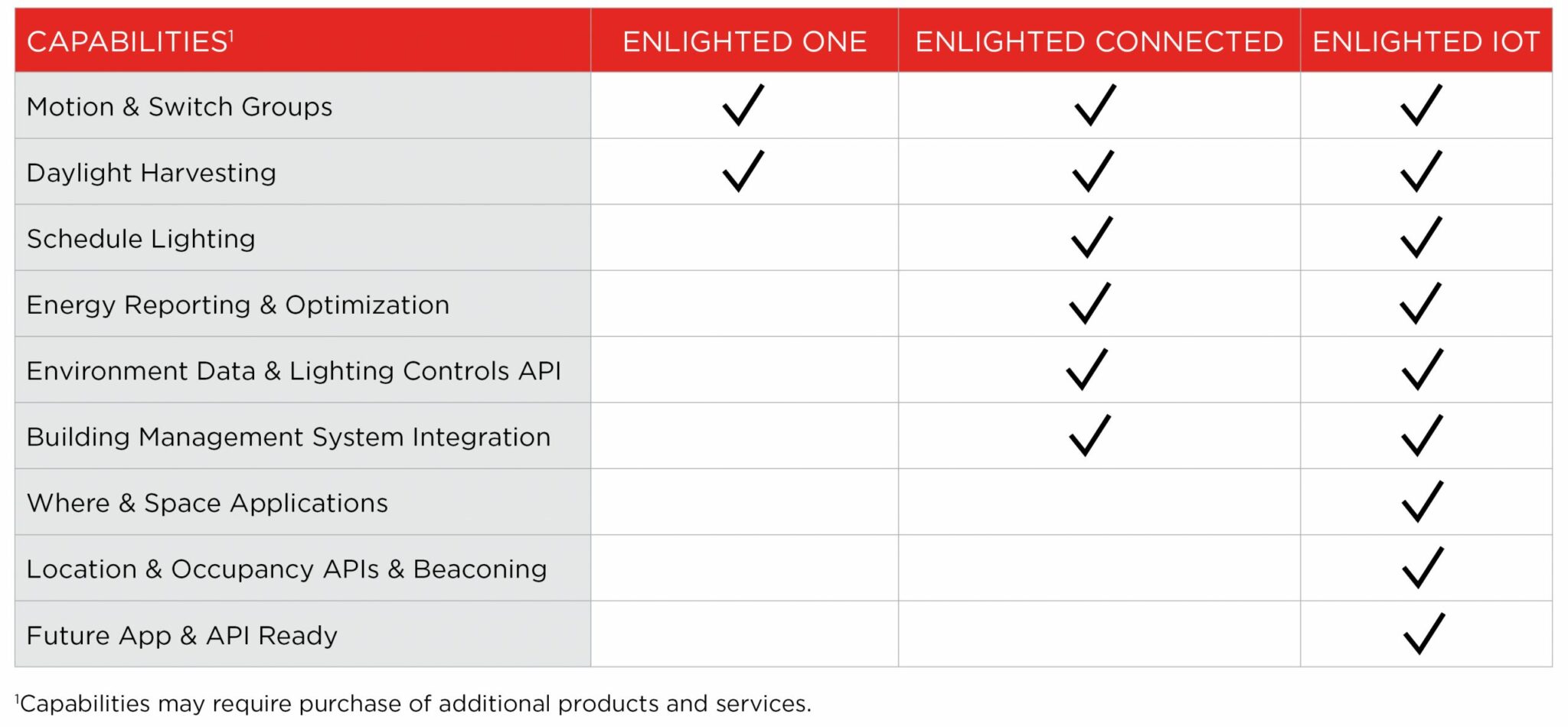 Smart lighting, quickly and efficiently. Enlighted One's room-based lighting controls are fast and easy to install, program, and commission, saving time and money, and providing instant code compliance. Sensors arrive integrated into new lighting fixtures, or are simple to install with existing ones.
SIMPLE INSTALLATION,
INSTANT SAVINGS

Enlighted One is an out-of-the-box solution that delivers powerful lighting control. The wireless system comes programmed with four pre-configured lighting profiles. Projects can turn around faster, and more profitably, without a need for IT support.
IDEAL LIGHTING,
INSTANTLY

Enlighted One's sensors automatically adjust light levels to take advantage of ambient daylight. Light levels are easily adjusted from a wall switch, and automatically switch off when not in use.
OUT OF THE BOX
CODE COMPLIANT

Powered by our award-winning wireless technology, Enlighted One's lighting controls are code-compliant for Title 24 and ASHRAE 90.1.
Enlighted Connected offers all of the features of Enlighted One — plus time-of-day scheduling, and building-wide control over lighting profiles. It also integrates with building management systems to provide occupancy data for HVAC adjustments. Automated demand response settings adjust energy use at times of peak demand, and the system provides detailed energy savings data by time of day, and location.
CONTROL FROM
YOUR DESKTOP

The Enlighted Energy Manager lets you easily program a range of lighting profiles from a single web-based user interface, to provide ideal illumination for any area or set of areas. Task tuning allows for adjustment of light levels, and the system can be programmed to follow a schedule, or respond in real-time.

Groups of lights operate autonomously to respond to ambient light, and the system connects to the BMS, providing data for more efficient HVAC control. Enlighted Connected also provides detailed reporting on energy savings.

Enlighted wireless networks are upgradeable to seamlessly adapt as new advanced features roll out. With sensor hardware already installed, the system is ready for upgrades when you are.
Enlighted IOT offers all of the features of Enlighted Connected — plus Where & Space Applications, Location & Occupancy APIs & Beaconing, and Future App & API Ready solutions. The addition of the Safe Application provides digital contact tracing across a building or portfolio of buildings.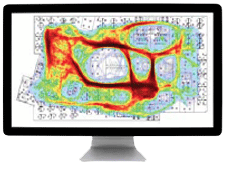 Enables fact-based decision making for CRE optimization using rich data, analytics, and visualization.
Gain insight into utilization, trends, and occupancy across the building portfolio.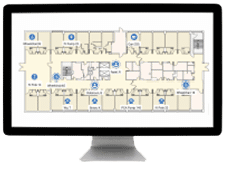 Real-time location services in the building.
Track mobile assets and locate people, and utilize geofences for location-based alerts.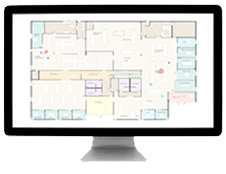 Workplace digital contact tracing and data-driven risk reduction application for COVID-19.
Create and monitor policy compliance by visualizing contact events across a building, or portfolio of buildings.
Contact tracing for affected employees while prioritizing data privacy with alphanumeric, anonymous ID badges.
THE ENLIGHTED IOT PLATFORM SYSTEM ARCHITECTURE
Enlighted sensors are installed in each light fixture in a building, creating a dense and granular grid of coverage for data collection. The cloud-based data in Amaze is used by Enlighted's IoT software applications Space and Where, and also available to 3rd party applications via APIs. Asset tags and badges communicate using Bluetooth with the sensors for calculating the location of assets and people.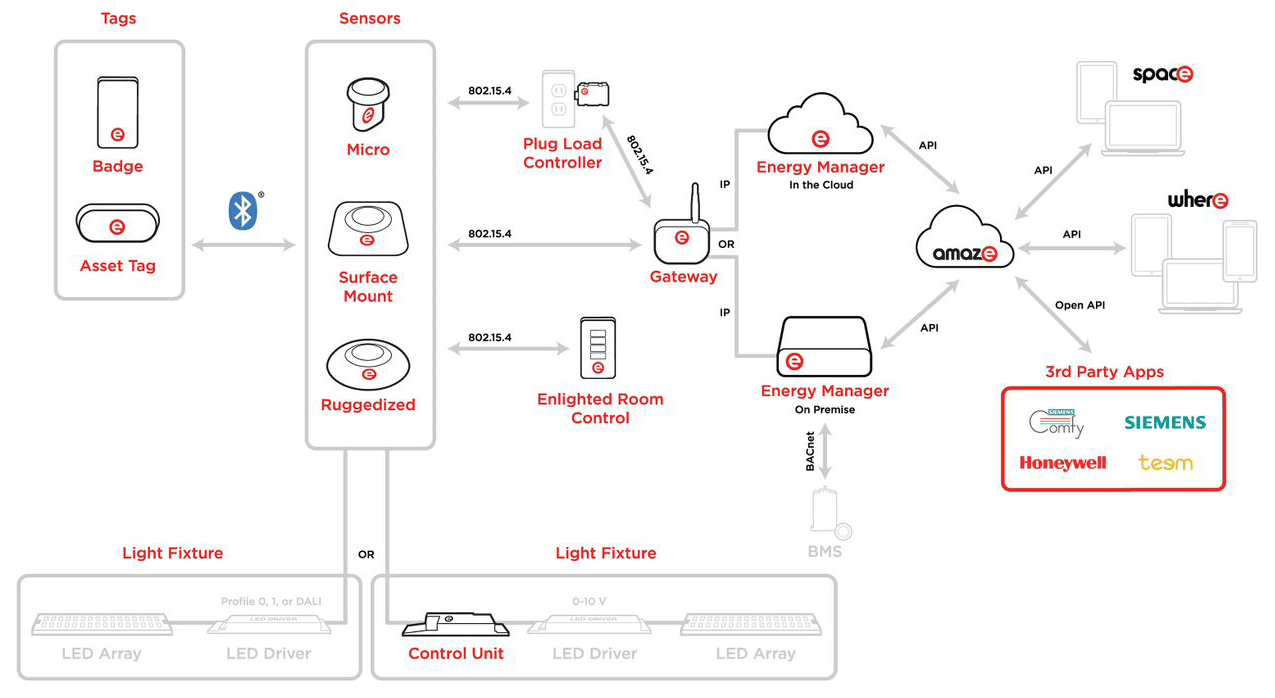 LIGHTING IS ONLY THE BEGINNING
The Enlighted Micro Sensor, 8-pin, is our fifth-generation sensor, delivering all the functionality of our other sensors in a minimally-sized package. Integrated sensors capture data that is both processed locally and transmitted over the Enlighted network, enabling a full suite of applications. In addition, the sensor supports Bluetooth® Low Energy communication with tags and other BLE devices.
The Micro Sensor, 8-pin, is a complete sensing and lighting control node powered from its attached light fixture. An innovative carrier-based mounting design supports easy installation and replacement. With integrated wireless communications for data transmission and remote configuration as well as autonomous fixture-level control, this sensor brings advanced lighting automation to a whole new level.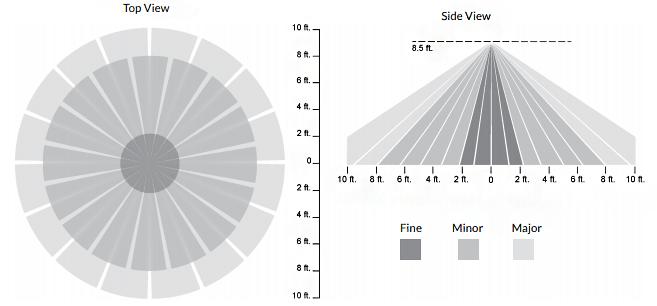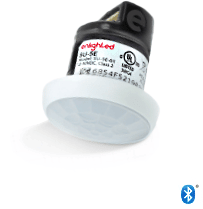 Micro Sensor, 8-pin
 
Body
L
0.88″
22.5 mm
Dia.
0.73″
18.5 mm
Bezel
Dia.
1.06″
27.0 mm
 
The Enlighted Fixture Carrier

Body
L
0.51″
13 mm
Dia.
0.81″
20.7 mm