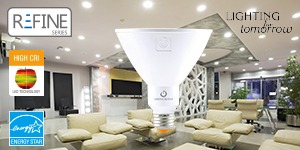 PAR38 wins Lighting for Tomorrow replacement lamp award
SAN BRUNO, CA, October 12, 2017, GREEN CREATIVE, the commercial grade LED lighting manufacturer proudly announces the REFINE Series PAR38 17W as the LED Replacement Lamp category winner for the 2017 Lighting for Tomorrow competition.
"We are extremely honored to see our PAR38 win the LED Replacement Lamp category in this year's Lighting for Tomorrow competition," says GREEN CREATIVE Marketing Director, Matt Leonard. "This is our highest performing PAR product to date and truly deserves the industry recognition it has been receiving."
The Lighting for Tomorrow competition "challenges manufacturers to develop residential lighting products that successfully incorporate advances in both design and energy efficiency. By recognizing exceptional new products, Lighting for Tomorrow seeks to meet consumer expectations and leap over market barriers that inhibit the adoption and use of energy efficient residential lighting products."
The 2017 judging panel reviewed over 130 products from the following categories: LED indoor fixtures, LED outdoor fixtures, LED retrofit kits, LED replacement lamps, lighting control devices, connected lighting products, OLEDs and ceiling fan lights.
GREEN CREATIVE's REFINE Series PAR38 17W lamp was selected for its combination of industry leading lumen output, candela and efficacy. This lamp features the patented full-face REFINE optic that provides a high candela to lumen ratio and has typical CRI 90, R9 65 and R13 90 values for applications that demand crisp and vibrant colors. This ENERGY STAR® certified lamp is also suitable for enclosed fixtures.
The judge's comments included, "LED PAR lamps with this brightness are few and far between; this one has nice output and color, and its beam spread makes it a good choice for home lighting." Watch the judging video below.
The complete Lighting for Tomorrow competition awards brochure is available here.
Detailed information and data sheet for the REFINE Series PAR38 17W are available on the GREEN CREATIVE website.
These products are available through GREEN CREATIVE distributors and are ready to ship from the company's west coast, central and east coast distribution centers. For more information on where to purchase these products near you or how to become a distributor, please contact GREEN CREATIVE at: [email protected] or (866) 774-5433.
About GREEN CREATIVE
GREEN CREATIVE is a major solid state lighting development and manufacturing company based in the Bay Area, CA. The company specializes in retrofit lighting for the commercial market, offering a comprehensive line of LED lighting solutions. GREEN CREATIVE is fully integrated with strong R&D capabilities to constantly offer the latest technology available. For more information on GREEN CREATIVE please visit www.greencreative.com. For all of the latest updates follow GREEN CREATIVE on Facebook, Twitter and LinkedIn.