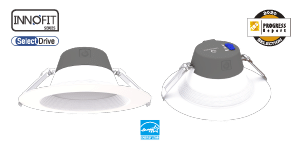 GREEN CREATIVE launches INNOFIT GEN 2, a series of commercial downlights with more options and greater efficiency.
(SANFORD, FL, October 27th, 2020) — GREEN CREATIVE, your partner for professional lighting solutions, proudly announces the launch of INNOFIT GEN 2, a series of commercial downlights with more options and greater efficiency.
"Selectable lumen downlights are one of our greatest strengths," said Chad McSpadden, Product Line Manager. "We've devoted a lot of time and energy into making the INNOFIT the most efficient downlight on the market. This innovation helps us build on our reputation of being a market leader in downlighting."
Providing over 130 lumens per watt, the INNOFIT GEN 2 was chosen for the 2020 IES Progress Report as the selectable lumen commercial retrofit downlight with the highest efficacy.
INNOFIT GEN 2 models come in four fixtures sizes: 4", 6", 8" and 9.5". Powered by SelectDrive technology, the lumen output can be adjusted with the flip of a switch on the back of the light. Five options of color temperature are available: 2700K, 3000K, 3500K, 4000K, and 5000K. The products are 0-10V or 120V forward and reverse-phase line voltage dimmable, Air-Tight, IC, and Wet Location rated, and have an L70 rated lifetime of 50,000 hours. They include a 5-year warranty.
Detailed information and datasheets for INNOFIT GEN 2 are available at www.greencreative.com.
GREEN CREATIVE distributors are ready to ship from our west coast, central and east coast distribution centers. For more information on where to purchase these products or how to become a distributor, please contact GREEN CREATIVE at sales@greencreative.com or call (866) 774-5433.
About GREEN CREATIVE
GREEN CREATIVE is a major solid-state lighting development and manufacturing company headquartered in central Florida. The company specializes in providing high-quality lamps, downlights, and track and fixture lighting solutions for the commercial, residential, and industrial markets. GREEN CREATIVE is fully integrated with strong R&D capabilities to consistently offer the latest technology. Visit www.greencreative.com for more information. Follow GREEN CREATIVE on Facebook, Twitter, and LinkedIn or YouTube for all the latest updates.