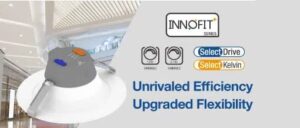 GREEN CREATIVE introduces INNOFIT Plus commercial downlight
(SANFORD, FL, June 1st, 2023) — GREEN CREATIVE is proud to introduce INNOFIT Plus, the upgraded generation of INNOFIT series with unrivaled efficiency and greater flexibility.
"The INNOFIT Plus pairs industry leading efficiency with upgraded flexibility." said Devin Jernigan, Vice President of Marketing and Technology. "Featuring both selectable light output and color temperatures, INNOFIT Plus continues our innovation of universal downlight retrofit solutions for any commercial or residential applications."
Via the integrated switches on top of the fixture, you can choose between three lumen output levels and three-color temperatures to easily adapt to the project's requirements and intended atmosphere – providing exceptional flexibility for contractors and installers when altering designs on the spot.
Distributors also benefit from reduced warehousing and logistical costs by switching to INNOFIT Plus, as one product provides nine unique SKU combinations of light output and color temperatures. Totally 54 field SKU combinations are available from only 6 SKUs in stock.
The INNOFIT Plus has been engineered for efficiency with an industry-leading efficacy of up to 140 lumens per watt, delivering maximum energy savings and a maintenance free installation for a long lifetime and swift ROI.
The family is available in 4", 6", 8" and 9.5" sizes, with models compatible with either 0-10V or 120V TRIAC/ELV dimming systems. Field installable emergency back-ups are also available for emergency lighting requirements. All models are Air-Tight, IC and Wet Location rated, Energy Star certified, and guaranteed with our standard 5 years warranty with L70 calculated lifetime of 100,000 hours.
Upgrade to INNOFIT Plus now and start benefitting from our continuous innovation for your retrofitting project in commercial or residential applications.
Detailed information and datasheets for INNOFIT Plus are available at www.greencreative.com.
GREEN CREATIVE distributors are ready to ship from our west coast, central and east coast distribution centers. For more information on where to purchase these products or how to become a distributor, please contact GREEN CREATIVE at [email protected] or call (866) 774-5433.
About GREEN CREATIVE
GREEN CREATIVE is a major solid-state lighting development and manufacturing company headquartered in central Florida. The company specializes in providing high-quality lamps, downlights, and track and fixture lighting solutions for the commercial, residential, and industrial markets. GREEN CREATIVE is fully integrated with strong R&D capabilities to consistently offer the latest technology. Visit www.greencreative.com for more information. Follow GREEN CREATIVE on Facebook, Twitter, and LinkedIn or YouTube for all the latest updates.