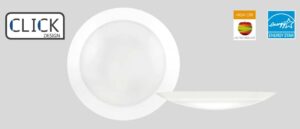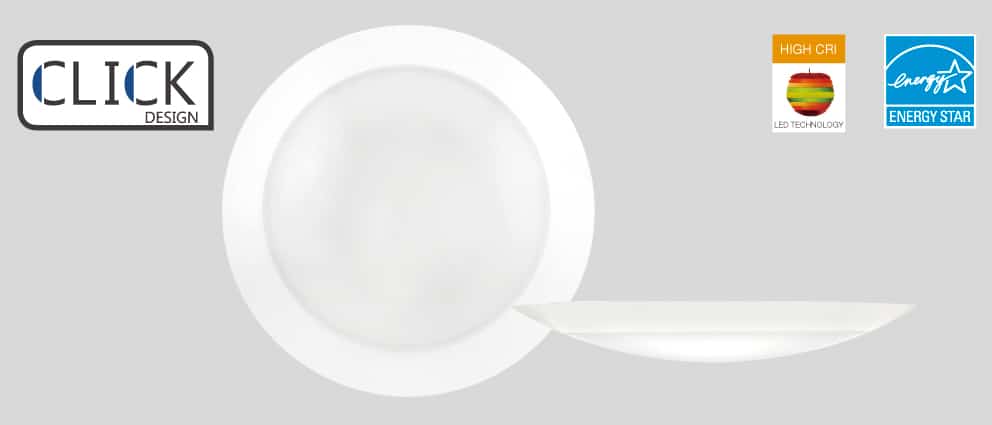 GREEN CREATIVE releases new 6" CLICK surface mount downlight
SANFORD, FL, November 14th, 2019, GREEN CREATIVE, your partner for professional lighting solutions, proudly announces the release of a new shallow design 6" CLICK to surface mounting product family.
"The CLICK family is designed to blend in seamlessly with the ceiling and still provide superior performance." said Chad McSpadden, Product Line Manager for Downlights and Track at GREEN CREATIVE.
The 1" fixture profile allows for up to 1200 lumens of high quality, 90 CRI light by minimizing the trim flange and maximizing the lens aperture, providing an aesthetically pleasing light source. The Wet Location and Air-Tight ratings mean it can be installed in the most demanding residential and commercial projects.
The CLICK family installs in minutes. Simply screw in the supplied mounting bracket (Junction Box) or utilize additional contortion springs (Recessed Housing, 4-6"), connect the incoming power to the fixture and then push the fixture into the bracket/housing. It's that easy!
Detailed information and data sheets for the new products are available at www.greencreative.com.
These products are available through GREEN CREATIVE distributors and are ready to ship from the company's west, central and east coast distribution centers. For more information on where to purchase these products near you or how to become a distributor, please contact GREEN CREATIVE at: [email protected] or (866) 774-5433.
About GREEN CREATIVE
GREEN CREATIVE is a major solid-state lighting development and manufacturing company headquartered in Central Florida. The company specializes in providing high quality lamp, downlight, track and fixture lighting solutions for the commercial & residential market. GREEN CREATIVE is fully integrated with strong R&D capabilities to constantly offer the latest technology available. For more information on GREEN CREATIVE please visit www.greencreative.com. For all of the latest updates follow GREEN CREATIVE on Facebook, Twitter and LinkedIn or YouTube.