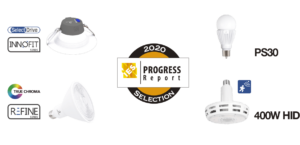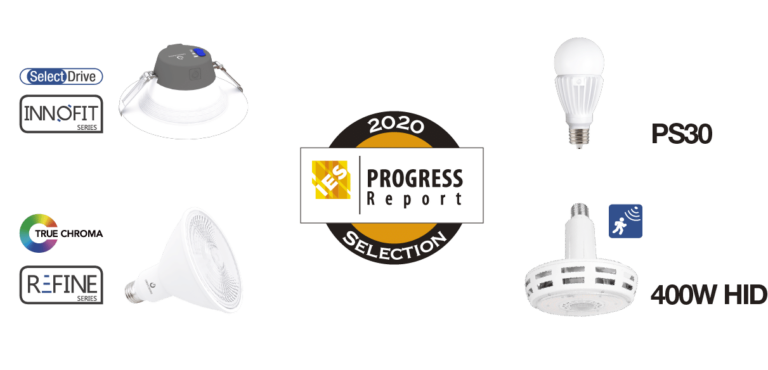 Four GREEN CREATIVE products selected for the 2020 IES Progress Report
SANFORD, FL, September 3rd, 2020 – GREEN CREATIVE proudly announces that four products have been selected by the Illuminating Engineering Society (IES) to be included in their 2020 Progress Report. These innovative luminaires and high-performance LED lamps provide quality solutions for a variety of new construction, remodeling, and retrofit applications.
The Progress Committee's mission is to keep in touch with developments in the art and science of lighting throughout the world and prepare a yearly report of achievements for the Society. Acceptance is based on an impartial judging process used by the committee to evaluate each submission on its uniqueness, innovation, and significance to the lighting industry.
INNOFIT GEN 2 is accepted by the committee as the highest efficacy selectable lumen commercial retrofit downlight, emitting over 130 lumens per watt. Recognized as a pioneer in power-adjustable commercial downlights, GREEN CREATIVE broke new ground with the INNOFIT GEN 2. Improvements upon the previous generation include more dimming options and Air-tight, IC, and Wet Location ratings.
Our REFINE PAR lamps, powered by TRUE CHROMA technology, are accepted as the best lifetime and greatest efficiency for a 95+ CRI PAR lamp. These lamps provide excellent color rendering of CRI 95 and Rf 93 minimum. The proprietary optical system sets a new standard for color accuracy and achieves efficacy of up to 94 LPW. Use REFINE on your most demanding applications and exceed your customer's expectations!
Joining them are the PS30 lamps, selected based on their industry-leading light output and ambient temperature range. These lamps provide up to 5,000 lumens and allow for ambient temperatures of up to 60°C (140°F). The A-shaped lens provides omnidirectional light distribution with a 240° beam angle, perfect for maximum illumination in commercial and industrial settings.
Finally, 400W HID replacement high bay lamps from GREEN CREATIVE are selected for the astounding light output of 20,000 lumens. With exceptional efficacy of 150 LPW, and an L70 lifetime of over 50,000 hours, these lights are designed to replace 400W HID lamps, and can be equipped with optional integral multi-function sensors to maximize energy savings and promote compliance with building codes. Motion sensing, daylight sensing, and bi-level dimming functions allow the lamp to be dimmed or turned off in unoccupied or daylit areas, leading to massive energy savings.
Detailed information and datasheets for all these selected products are available at www.greencreative.com.
GREEN CREATIVE distributors are ready to ship from our west coast, central and east coast distribution centers. For more information on where to purchase these products or how to become a distributor, please contact GREEN CREATIVE at [email protected] or call (866) 774-5433.
About GREEN CREATIVE
GREEN CREATIVE is a major solid-state lighting development and manufacturing company headquartered in central Florida. The company specializes in providing high-quality lamps, downlights, and track and fixture lighting solutions for the commercial, residential, and industrial markets. GREEN CREATIVE is fully integrated with strong R&D capabilities to consistently offer the latest technology. Visit www.greencreative.com for more information. Follow GREEN CREATIVE on Facebook, Twitter, and LinkedIn or YouTube for all the latest updates.