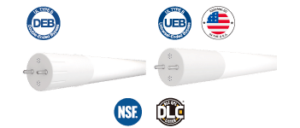 GREEN CREATIVE launches a refreshed range of 4-foot double ended bypass T8 lamps
(SANFORD, FL, December 1st, 2020) — GREEN CREATIVE, your partner for professional lighting solutions, is proud to announce a refreshed range of 4-foot double end bypass T8 lamps.
"Over the past year, we've made steady progress on our T8 lamps," says Ken Charton, Product Line Manager for lamps at GREEN CREATIVE. "We're now achieving efficacy of up to 170 lumens per watt and have extended the L70 lifetime to 60,000 hours. These improvements translate into genuine savings on energy and maintenance costs."
The lamps replace existing 32W 4-foot T8 fluorescent lights and are compatible with shunted and non-shunted sockets. The ballast is bypassed during installation, reducing the chance of component failure and eliminating the need to confirm ballast compatibility.
The series includes unique safety features that exceed UL requirements such as fusing to avoid thermal failure if mistakenly installed with a fluorescent ballast and an innovative safety switch which prevents accidental electric shock during lamp installation or removal.
The lamps are offered in four color temperatures, 3000K, 3500K, 4000K, and 5000K, with a 310° beam angle and an opaque lens design for less glare and maximum visual comfort. Power options include 10W, 12W, 14W and 17W, with lumen outputs ranging from 1,650 to 2,200 lumens. Select lamps include film coating to contain breakage, making shatter guards unnecessary. "Assembled in the USA" options are also available for meeting BAA requirements.
All items in the series are DLC-listed, UL-classified for damp locations, suitable for use in enclosed luminaires, and NSF-certified for use in food service applications. In addition to the standard 5-year warranty, an extended 10-year warranty is also available for all SKUs.
Detailed information and datasheets for the lamps are available at www.greencreative.com.
GREEN CREATIVE distributors are ready to ship from our west coast, central, and east coast distribution centers. For more information on where to purchase these products or how to become a distributor, please contact GREEN CREATIVE at [email protected] or call (866) 774-5433.
About GREEN CREATIVE
GREEN CREATIVE is a major solid-state lighting development and manufacturing company headquartered in central Florida. The company specializes in providing high-quality lamps, downlights, and track and fixture lighting solutions for the commercial, residential, and industrial markets. GREEN CREATIVE is fully integrated with strong R&D capabilities to consistently offer the latest technology. Visit www.greencreative.com for more information. Follow GREEN CREATIVE on Facebook, Twitter, and LinkedIn or YouTube for all the latest updates.