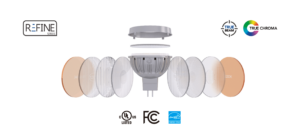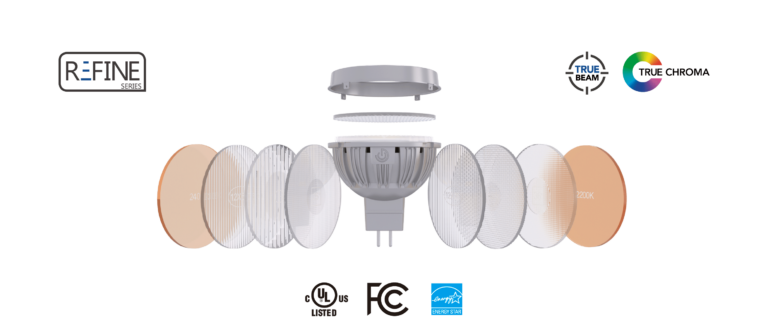 GREEN CREATIVE Launches REFINE MR Lamp Series with TRUE BEAM Accessories
SANFORD, FL, December 7th, 2021 — GREEN CREATIVE, your partner for professional lighting solutions, is proud to offer a REFINE MR lamp series with TRUE BEAM accessories to improve performance in halogen retrofits.
"Our REFINE MR16 lamps with TRUE BEAM accessories deliver accuracy in color, efficiency in power, and flexibility in design," said Devin Jernigan, Vice President of Product Management and Marketing.
TRUE BEAM accessories enable professionals to fully realize any lighting layout that can be conceived. Designers may choose from honeycomb or wall wash louvers, linear or square spreads, and wide wash options. For applications that require the fine-tuning of CCT, color shift lenses allow users to adjust color temperatures as well.
This new series of lamps is complemented by GREEN CREATIVE's proprietary REFINE lens and TRUE CHROMA color-rendering technology.
The REFINE lens delivers a powerful stream of light with intense center-beam candlepower and balanced light distribution while eliminating uncomfortable glare. And TRUE CHROMA technology ensures best-in-class color rendering and color consistency while exceeding the most stringent energy efficiency criteria such as California's Title 20 and Title 24 JA8.
All lamps in the series meet ANSI halogen MR16 size requirements and are suitable for enclosed housings and locations. The REFINE series includes models that can replace up to 75W halogen lamps while achieving a 90% energy savings. Each lamp is L70 lifetime rated up to 25,000 hours and is backed by an industry-leading 5-year warranty.
REFINE MR lamps are available in color temperatures 2700K, 3000K, and 4000K, and come with a wide variety of beam angles: 10°, 15°, 25°, and 35°. Lamps offer smooth dimming performance when used with most low voltage dimming controls, making them the perfect solution for retail, hospitality, commercial, and high-end residential applications.
Detailed information and datasheets for all products are available at www.greencreative.com.
For more information on where to purchase these products near you or how to become a distributor, please contact GREEN CREATIVE at: [email protected] or (866) 774-5433.
About GREEN CREATIVE
GREEN CREATIVE is a major solid-state lighting development and manufacturing company headquartered in central Florida. The company specializes in providing high-quality lamps, downlights, and track and fixture lighting solutions for the commercial, residential, and industrial markets. GREEN CREATIVE is fully integrated with strong R&D capabilities to consistently offer the latest technology. Visit www.greencreative.com for more information. Follow GREEN CREATIVE on Facebook, Twitter, and LinkedIn or YouTube for all the latest updates.