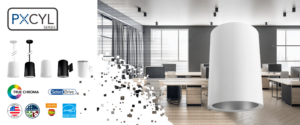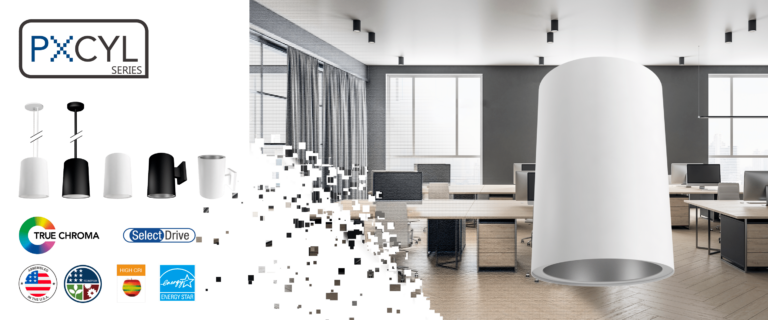 GREEN CREATIVE Launches PXCYL Cylinder Downlight for Commercial Applications
SANFORD, FL, November 30th , 2021 — GREEN CREATIVE, your partner for professional lighting solutions, proudly releases PXCYL, a new specification-grade cylinder downlight series to complement the brand's commercial lighting portfolio.
"With the addition of PXCYL, we offer a more diverse selection of architectural solutions to our customers," said Devin Jernigan, Vice President of Product Management and Marketing.  "This cylinder pairs well with our ORBIT track series and SPECFIT downlights to create a balanced aesthetic throughout your entire space."
PXCYL is available in four sizes, including 2, 4, 6, and 8-inch. Colors include traditional matte black and white, as well as custom finishes for more dynamic designs.
A full range of mounting options are available, including surface, wall, wall up-light, pendant, suspension, and track suspension. From artistic to purely utilitarian, the PXCYL is suitable for any commercial or residential application.
PXCYL offers 120V and 0-10V dimmable options and features GREEN CREATIVE's Industry Leading SelectDrive technology, which allows users to select from three lumen levels simply by flipping a switch on the driver. Additional third-party drivers and controls are also available.
PXCYL was designed for maximum visual comfort in applications including retail, commercial office, education, and healthcare facilities. Field-interchangeable optical accessories let the user choose from five beam angles, resulting in broad flexibility in lighting design. This cylinder's deep 45° cutoff design creates a crisp beam of light, with minimal glare and reduced aperture brightness. Optional reflectors are available for spotlighting.
PXCYL has been engineered to ensure color uniformity. Five color temperatures at 90 CRI are available, and a TRUE CHROMA option for 3000K models helps you meet the most stringent color fidelity requirements.
Proudly assembled in the USA, PXCYL is ETL listed and ENERGY STAR® certified. All products in the PXCYL series come with an L70 lifetime rating of 50,000 hours and a 5-year warranty.
Detailed information and datasheets for all products are available at www.greencreative.com/products/luminaires/cylinder-downlight.
For more information on where to purchase these products near you or how to become a distributor, please contact GREEN CREATIVE at: [email protected] or (866) 774-5433.
About GREEN CREATIVE
GREEN CREATIVE is a major solid-state lighting development and manufacturing company headquartered in central Florida. The company specializes in providing high-quality lamps, downlights, and track and fixture lighting solutions for the commercial, residential, and industrial markets. GREEN CREATIVE is fully integrated with strong R&D capabilities to consistently offer the latest technology. Visit www.greencreative.com for more information. Follow GREEN CREATIVE on Facebook, Twitter, and LinkedIn or YouTube for all the latest updates.