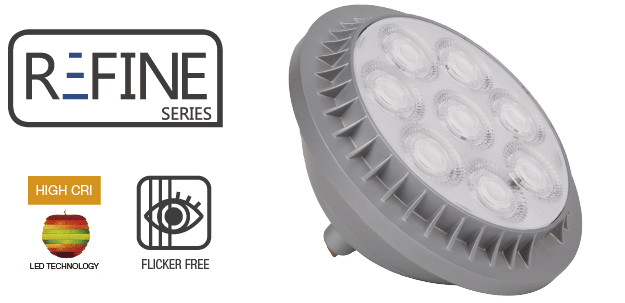 GREEN CREATIVE launches 40-watt PAR56 lamp to replace 300-watt halogens.
(SANFORD, FL, November 10th, 2020) — GREEN CREATIVE, your partner for professional lighting solutions, proudly announces the launch of the new REFINE PAR56 lamp, a true replacement for GX16d base 300-watt halogen lights.
Ken Charton, Product Line Manager at GREEN CREATIVE calls this lamp "an exciting development in the company's product line."
"These lamps are as powerful as a 300-watt halogen, consume a fraction of the electricity, and last 25 times longer. Houses of Worship and Theaters can enjoy reduced maintenance by easily upgrading their fixtures with our REFINE PAR56."
The REFINE PAR56 features a proprietary optical design which delivers 34,000cd center beam candlepower (CBCP), and up to 4,000 lumens light output. The lens ensures minimal glare and even light distribution. Beam options include 15o Spot, 25o Narrow Flood, and 40o Flood Beam.
The PAR56 is compatible with most existing forward and reverse-phase dimming systems, which eliminates the need to update existing control systems. The lamp is also suitable for damp locations and totally enclosed luminaries.
With an industry-leading L70-rated lifetime of 50,000 hours, a 90+ CRI light source, and a powerful and durable light engine, the REFINE PAR56 is your choice for a simple, efficient energy-saving solution that doesn't compromise quality of light.
Detailed information and datasheets for PAR56 lamps are available at www.greencreative.com.
GREEN CREATIVE distributors are ready to ship from our west coast, central and east coast distribution centers. For more information on where to purchase these products or how to become a distributor, please contact GREEN CREATIVE at [email protected] or call (866) 774-5433.
About GREEN CREATIVE
GREEN CREATIVE is a major solid-state lighting development and manufacturing company headquartered in central Florida. The company specializes in providing high-quality lamps, downlights, and track and fixture lighting solutions for the commercial, residential, and industrial markets. GREEN CREATIVE is fully integrated with strong R&D capabilities to consistently offer the latest technology. Visit www.greencreative.com for more information. Follow GREEN CREATIVE on Facebook, Twitter, and LinkedIn or YouTube for all the latest updates.