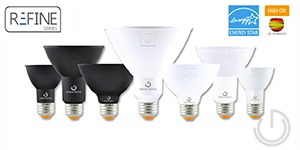 GREEN CREATIVE launches new PAR REFINE Series
SAN BRUNO, CA, July 21th, GREEN CREATIVE, the commercial grade LED lighting manufacturer proudly announces the launch of its latest generation of PAR lamps.
The new award-winning PAR REFINE Series includes PAR38, PAR30 long and short neck and PAR20 lamp types in spot, narrow flood and flood beam angles. This year the IES selected the PAR REFINE Series for its 2017 Progress Report, and the PAR38 was chosen by Lighting for Tomorrow as the 2017 Replacement Lamp winner.
All PAR REFINE Series lamps feature the full-faced, patented REFINE optic. This innovative combination of a reflector, focus lens and shaping lens gives the lamp a traditional halogen look while providing excellent light output with a high candela to lumen ratio.
"Building on the success of the previous generation, all lamps in our PAR REFINE Series now feature industry leading lumen output, candela and efficacy in the same great form factor and look," says GREEN CREATIVE's Marketing Director, Matt Leonard. "While the industry is trending towards lower lifetime and lower spec products, we just came out with our highest performing PAR lamps ever."
Compared to its predecessor, this generation features an average 25% increase in lumen output, candela and efficacy. The PAR20 is also now available in narrow flood and spot beam angles, allowing lighting designers to have a small, yet powerful, line voltage option.
Each lamp has typical CRI 90, R9 65 and R13 90 values that provide crisp and vibrant colors across the whole spectrum. These ENERGY STAR® certified lamps are ideal for applications that demand accurate color rendering such as merchandise, art and food. In addition, color temperatures fall within a 4-step Macadam ellipse to ensure minimal color deviation across lamps.
All PAR REFINE Series lamps are fully dimmable, suitable for use in totally enclosed fixtures and last 50,000 hours. The lamps are available in 2700K, 3000K and 4000K in 15°, 25° and 40° beam angles and in black and white finishes. Select PAR38 and PAR30 models are also available in GU24 and 120-277V universal voltage versions.
Detailed information on the PAR REFINE Series is available here.
These products are available through GREEN CREATIVE distributors and are ready to ship from the company's west coast, central and east coast distribution centers. For more information on where to purchase these products near you or how to become a distributor, please contact GREEN CREATIVE at: [email protected] or (866) 774-5433.
About GREEN CREATIVE
GREEN CREATIVE is a major solid state lighting development and manufacturing company based in the Bay Area, CA. The company specializes in retrofit lighting for the commercial market, offering a comprehensive line of LED lighting solutions. GREEN CREATIVE is fully integrated with strong R&D capabilities to constantly offer the latest technology available. For more information on GREEN CREATIVE please visit www.greencreative.com. For all of the latest updates follow GREEN CREATIVE on Facebook, Twitter and LinkedIn.