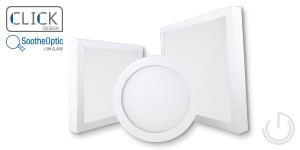 GREEN CREATIVE launches CLICK Design Surface Mount Ceiling Series
SAN BRUNO, CA, September 29th, GREEN CREATIVE, the commercial grade LED lighting manufacturer proudly announces the launch of its SURFACE MOUNT CEILING CLICK Series downlights.
These new ENERGY STAR® certified round & square surface mount downlights come in 9", 7" and 5.5" form factors. Each high CRI luminaire uses the latest in edge lighting technology to produce a smooth uniform lighting effect. In addition, all downlights feature the SootheOptic low-glare diffuser to reduce high-angle light and minimize visual glare.
"Our new surface mount downlights are a great combination of high performance lighting and versatility," says GREEN CREATIVE Product Manager, Victor Pellerin. "End users can now choose from multiple shapes and form factors to give any space low-glare, beautiful light.  All that's needed is a j-box."
All CLICK Series downlights come standard for 4" j-box installation and are suitable for wet locations. With typical CRI 90, R9 50 & R13 90 values, these downlights are ideal for residential, multi-family and hospitality applications. Quick connectors are included with each product to make installation fast and easy with no rewiring. An accessory kit is also available for 4" & 6" recessed can installation.
These dimmable luminaires last 50,000 and are available in 2700K, 3000K and 4000K color temperatures.
Detailed information on the SURFACE MOUNT CEILING CLICK Series downlights can be found here.
These products are available through GREEN CREATIVE distributors and are ready to ship from the company's west coast, central and east coast distribution centers. For more information on where to purchase these products near you or how to become a distributor, please contact GREEN CREATIVE at: [email protected] or (866) 774-5433.
About GREEN CREATIVE
GREEN CREATIVE is a major solid state lighting development and manufacturing company based in the Bay Area, CA. The company specializes in retrofit lighting for the commercial market, offering a comprehensive line of LED lighting solutions. GREEN CREATIVE is fully integrated with strong R&D capabilities to constantly offer the latest technology available. For more information on GREEN CREATIVE please visit www.greencreative.com. For all of the latest updates follow GREEN CREATIVE on Facebook, Twitter and LinkedIn.