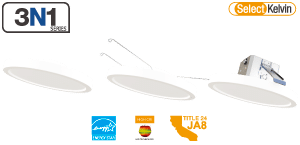 GREEN CREATIVE launches 3N1 surface mount downlights
(SANFORD, FL, December 17th, 2020) — GREEN CREATIVE, your partner for professional lighting solutions, proudly announces the launch of 3N1, a family of surface mount downlights with 3 installations methods and 3 color temperatures all in 1 product.
"Installation with the 3N1 family is flexible and easy." said Chad McSpadden, Product Line Manager. "This one product has covered the three most popular installation methods and color temperatures for most residential and commercial lighting applications."
The 3N1 family all come standard with a surface mount bracket compatible with most 4" J-Box. In addition, the products can retrofit recessed housings with optional torsion springs. They can also be used for remodel or new construction by direct mounting to the ceiling with the J-box accessory.
Featuring SelectKelvin Technology, 3N1 family make it possible to select among 3000K, 3500K and 4000K color temperatures before, during or after installation with just the flip of a switch on the back of the product, providing quality light of 90 CRI with tight 3-steps SDCM binning LEDs for great color rendition and consistency.
The 3N1 family come in four different sizes: 5", 7", 9" and 12", and are available with multiple trim color accessories, ensuring a clean and modern look. Edge lighting technology minimizes the fixture height and ensures all 3N1 fixtures are less than three quarters of an inch deep.
The products are 0-10V or 120V forward and reverse-phase line voltage dimmable, Air-Tight, IC, and Wet Location rated, and have an L70 rated lifetime of 50,000 hours with a 5-year warranty.
Detailed information and datasheets for 3N1 surface mount downlights are available at www.greencreative.com.
GREEN CREATIVE distributors are ready to ship from our west coast, central, and east coast distribution centers. For more information on where to purchase these products or how to become a distributor, please contact GREEN CREATIVE at [email protected] or call (866) 774-5433.
About GREEN CREATIVE
GREEN CREATIVE is a major solid-state lighting development and manufacturing company headquartered in central Florida. The company specializes in providing high-quality lamps, downlights, and track and fixture lighting solutions for the commercial, residential, and industrial markets. GREEN CREATIVE is fully integrated with strong R&D capabilities to consistently offer the latest technology. Visit www.greencreative.com for more information. Follow GREEN CREATIVE on Facebook, Twitter, and LinkedIn or YouTube for all the latest updates.