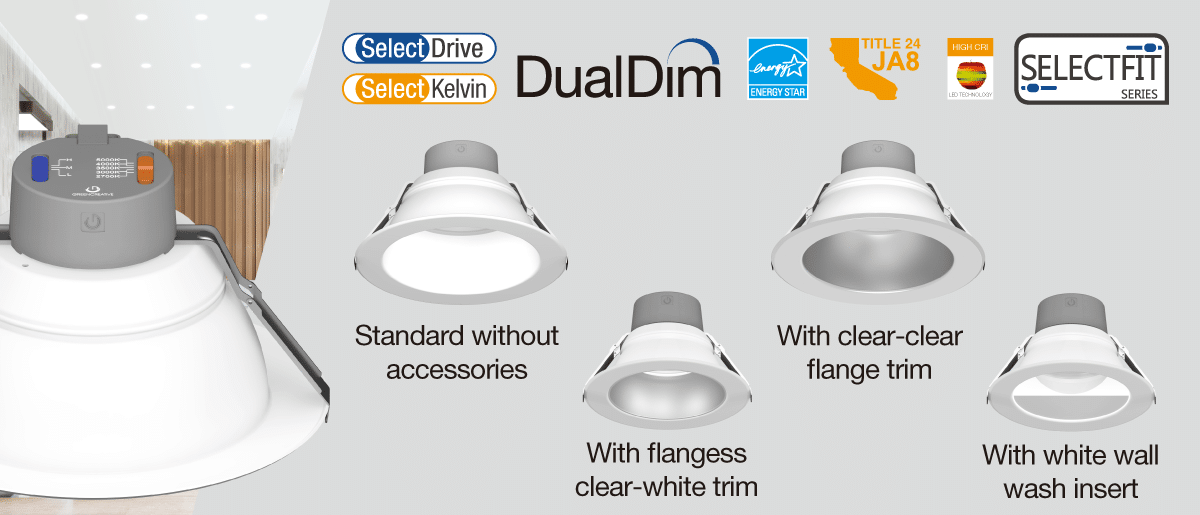 GREEN CREATIVE introduces the upgraded generation of SELECTFIT commercial downlight
SANFORD, FL, March 9th, 2023 – GREEN CREATIVE is proud to introduce SELECTFIT G2, the upgraded canless commercial downlight with greater selection for better FIT.
"With enhanced integrated selectable options and easy installation, the upgraded SELECTFIT downlight simplifies any commercial application". said Devin Jernigan, Vice President of Product Management and Marketing. "Powered by DualDim technology, SELECTFIT G2 offers compatibility with both 0-10V and 120V TRIAC/ELV dimming systems for additional flexibility."
SELECTFIT G2 downlight from GREEN CREATIVE brings greater flexibility to your retrofit project or new construction application while maintaining its excellent performance and quality.
This new and improved lighting family offers integrated CCT and lumen output selection. By simply adjusting the SelectKelvin and SelectDrive switches on the top of the fixture, you can easily choose between five color temperatures and three lumen output levels. For additional flexibility, SELECTFIT G2 series features DualDim technology allowing dimming on both 120V TRIAC/ELV and 0-10V systems.
SELECTFIT G2 also offers field-installable accessories to give designers more options. The trim insert, wall wash, and medium Fresnel optic allow you to redesign the lighting layout according to the demands of the space. Whether it's providing a traditional look, highlighting texture or product on a wall, or optimizing distribution across your application, the SELECTFIT G2 has an option to accomplish it.
The upgraded SELECTFIT downlight series offers more lumen output options spanning from smooth 750-lumen models to powerful 4500-lumen models for high-ceiling applications while maintaining all the features that make it one of GREEN CREATIVE's most well-known products: Air-tight and IC rating, wet location rating, a broad ambient temperature range, ENERGY STAR certification, and compatibility with California JA8 Title 24 regulations. No matter what your commercial lighting requirement is, the SELECTFIT G2 downlight series has the flexibility to FIT your application.
Detailed information and datasheets for SELECTFIT G2 is available at  https://greencreative.com
For more information on where to purchase these products near you or how to become a distributor, please contact GREEN CREATIVE at: [email protected] or (866) 774-5433.
About GREEN CREATIVE
GREEN CREATIVE is a major solid-state lighting development and manufacturing company headquartered in central Florida. The company specializes in providing high-quality lamps, downlights, and track and fixture lighting solutions for the commercial, residential, and industrial markets. GREEN CREATIVE is fully integrated with strong R&D capabilities to consistently offer the latest technology. Visit www.greencreative.com for more information. Follow GREEN CREATIVE on Facebook, Twitter, and LinkedIn or YouTube for all the latest updates.