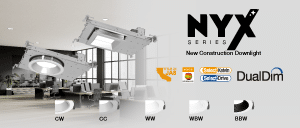 GREEN CREATIVE introduces NYX new construction downlights
(SANFORD, FL, August 3rd, 2023) — GREEN CREATIVE is proud to introduce NYX, a series of downlights providing all the selectability and adaptability required for any new construction or renovation applications.
"With integrated SelectDrive, SelectKelvin and DualDim technologies, abundant options of field installable accessories, and unique compact design, NYX revives customized downlighting design for any new construction or remodel project." said Devin Jernigan, Vice President of Marketing and Technology.
NYX has been thought with performance in mind without compromising on design and allows for installing virtually anywhere.
DualDim technology of NYX downlight allows for dimming on both 120V TRIAC/ELV and 0-10V systems with just one product. Integrated SelectKelvin switch can set the light color temperature at 2700K, 3000K, 3500K, 4000K, and 5000K to create the right atmosphere for your space. SelectDrive switch enables four light output levels from smooth 700lm to powerful 4000lm for any ceiling height. Two beam angle options are available for greater general illumination or nicer uniformity when higher level of illumination is required.
NYX downlights are available in 4" and 6" sizes, round and square shapes. Reflector options include full clear and white dead front for specific damp or wet location usage, black or white baffle styles with white flange for smoother and lower glare light output, and classical clear and white flange for an ageless design. A wall wash kicker is also available for wall grazing.
The downlights are engineered for a complete toolless field installation, doable in seconds. From a super shallow design of less than 4", NYX provides a compact design that can be installed in even the shallowest plenum spaces. With all parts upgradable or serviceable from below the ceiling, maintenance is easy and future upgrading is also possible.
NYX downlights are IC and Air-Tight rated, suitable for wet locations, Energy Star certified and meeting Title 24 JA8 requirements. With calculated L70 lifetime of 100,000 hours and high CRI 90, NYX provides superior and reliable lighting performance over time.
Detailed information and datasheets for NYX downlights are available at www.greencreative.com.
GREEN CREATIVE distributors are ready to ship from our west coast, central and east coast distribution centers. For more information on where to purchase these products or how to become a distributor, please contact GREEN CREATIVE at [email protected] or call (866) 774-5433.
About GREEN CREATIVE
GREEN CREATIVE is a major solid-state lighting development and manufacturing company headquartered in central Florida. The company specializes in providing high-quality lamps, downlights, and track and fixture lighting solutions for the commercial, residential, and industrial markets. GREEN CREATIVE is fully integrated with strong R&D capabilities to consistently offer the latest technology. Visit www.greencreative.com for more information. Follow GREEN CREATIVE on Facebook, Twitter, and LinkedIn or YouTube for all the latest updates.