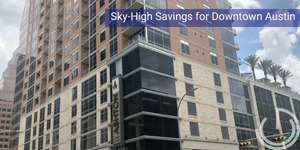 GREEN CREATIVE Case Study: Sky-High Savings for Downton Austin
SAN BRUNO, CA, August 7th, 2018, See the latest GREEN CREATIVE Case Study for the Ashton Austin in Austin, TX. This multi-family, luxury high-rise retrofitted its housing units and common areas with over 8000 GREEN CREATIVE lamps for savings of over $38,000 a year. Read the complete case study in the case study section.
About GREEN CREATIVE
GREEN CREATIVE is a major solid state lighting development and manufacturing company based in the Bay Area, CA. The company specializes in retrofit lighting for the commercial market, offering a comprehensive line of LED lighting solutions. GREEN CREATIVE is fully integrated with strong R&D capabilities to constantly offer the latest technology available. For more information on GREEN CREATIVE please visit www.greencreative.com. For all of the latest updates follow GREEN CREATIVE on Facebook, Twitter and LinkedIn or YouTube.