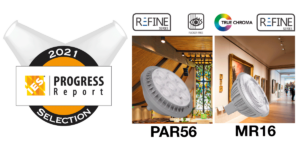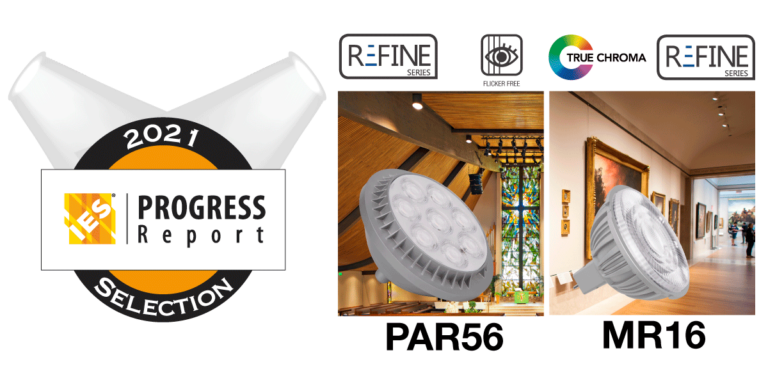 Two GREEN CREATIVE products included in 2021 IES Progress Report
(SANFORD, FL, August 26th, 2021) – GREEN CREATIVE is pleased to announce that two lamp series, the REFINE PAR56 and REFINE MR16, have been included in this year's IES Progress Report.
2021 marks the eighth year in a row that GREEN CREATIVE has met the IES's standards for innovation and performance in the lighting industry.
Both the MR16 and PAR56 lamps feature GREEN CREATIVE's proprietary REFINE lens and optical system that provides even light distribution, intense CBCP, while minimizing unwanted glare.
The REFINE MR16 series was selected for its superior efficiency and premium color accuracy. These MR16 lamps incorporate GREEN CREATIVE's TRUE CHROMA technology to deliver best-in-class color accuracy (95 CRI minimum) at efficiency levels that exceed all standards including California's Title 20 regulations.
Suitable for replacing 42W, 50W, and 75W halogen lamps, the series offers 120V GU10 and 12V GU5.3 models with four beam angles, three color temperatures, and compatibility with forward-phase and reverse-phase dimming controls.
The PAR56 lamp was selected for its remarkable efficiency and performance during dimming. The 40W lamp provides an impressive 34,000-candela output and is capable of producing steady, flicker-free light even when dimmed below 1%.
Easy installation, flicker-free dimming, and high candlepower with minimal glare make GREEN CREATIVE's PAR56 ideal for offices or retail spaces, as well as public venues such as theaters and churches. Suitable for damp locations, this 40W lamp replaces 300W halogen lamps and lasts up to 25 times longer. The PAR56 has an L70 lifetime rating of 50,000 hours and a 1:1 halogen form factor for quick retrofits.
More information about our latest IES Progress Report selections is available at www.greencreative.com
About GREEN CREATIVE
GREEN CREATIVE is a major solid-state lighting development and manufacturing company headquartered in Central Florida. The company specializes in providing high-quality lamp, downlight, track, and fixture lighting solutions for the commercial & residential market. GREEN CREATIVE is fully integrated with strong R&D capabilities to constantly offer the latest technology available. For more information on GREEN CREATIVE please visit www.greencreative.com. For all of the latest updates follow GREEN CREATIVE on Facebook, Twitter, and LinkedIn or YouTube.