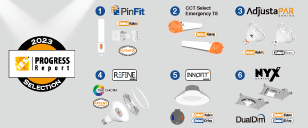 Six GREEN CREATIVE Products Selected in 2023 IES Progress Report
(SANFORD, FL, August 10th, 2023) — GREEN CREATIVE is pleased to announce that six products have been selected in this year's IES Progress Report, including CCT Select PinFit, CCT Select Emergency T8, AdjustaPAR lamps, new REFINE PAR lamps, INNOFIT Plus downlights and NYX new construction downlights.
2023 marks the tenth year in a row that GREEN CREATIVE has met the IES's standards for innovation and performance in the lighting industry.
"We always strive to deliver greater value to our customers with continuous innovation and improvement in our products." said Devin Jernigan, Vice President of Marketing and Technology. "The six products selected in this year's IES progress report bring evolutionary features and industry leading lighting performance."
CCT select PinFit continues to drive evolution in retrofitting. In addition to all the great benefits of PinFit lamps, the CCT Select PinFit is now also equipped with SelectKelvin technology, allowing for selectable color temperatures among 3000K, 3500K and 4000K for customized atmosphere in the field. Together with the patented modular socket design and embedded universal driver, CCT select PinFit is your best choice in all fluorescent PL lamp retrofitting projects, regardless of the lamp bases, ballast types, installation orientations, or color temperature requirements.
Industry's first CCT Select Emergency T8 from GREEN CREATIVE provides maximized flexibility and optimized stock management. The tube is engineered for providing all-in-one solution for both general and emergency lighting in three selectable color temperatures. In case of power outage, it offers 90 minutes of light at 600lm under emergency use. The integrated real-time self-test design will perform continuous testing and monitor the battery status any time.
The game-changing AdjustaPAR lamps are the industry's first fully selectable PAR lamps. Integrated CCT select switch and beam angle select switch provide options of two selectable beam angles and five selectable color temperatures in the field, creating diversified lighting schemes from just one lamp. AdjustaPAR lamps realizes 90% stock management savings for distributors, enables ten times field customization possibilities for installers, and provides end-users with a future-proof lighting solution that can upgrade and evolve with the changing needs of the space.
Thanks to the patent-pending field interchangeable lenses system design, our latest REFINE PAR lamps provide one-stop solution for specification grade PAR lamps with the most extensive range of 100+ SKUs. Setting new standards in versatility and performance. GREEN CREATIVE's proprietary REFINE lens delivers powerful light with intense center beam candle power and even light distribution, while eliminating uncomfortable glare. TRUE CHROMA technology ensures best in class color rendering and color consistency. Lighting professionals will find REFINE PAR series as the ultimate choice when seeking lighting solutions that transcend boundaries.
The INNOFIT Plus pairs industry leading efficiency with upgraded flexibility. Powered by both SelectDrive and SelectKelvin technologies, this new and improved downlight family offers 3 field-selectable light output and 3 color temperature selections. One product provides nine unique combinations of light output and color. With an industry-leading efficiency of up to 140 lumen per watt, installing the INNOFIT Plus offers maximum energy savings and results in a swift ROI.
NYX new construction downlights from GREEN CREATIVE are designed with integrated SelectDrive, SelectKelvin and DualDim technologies, a galaxy of reflectors options and finishes, in a unique compact design. SelectKelvin technology provides five choices of CCT from warm 2700K to energetic 5000K. SelectDrive allows for selecting among four light output levels from smooth 700lm to powerful 4000lm. DualDim technology enables dimming with either 120V TRIAC/ELV or 0-10V controls from only one product. NYX is a perfect choice for any new construction or direct mount installations.
More information about our latest IES Progress Report selections is available at www.greencreative.com.
GREEN CREATIVE distributors are ready to ship from our west coast, central and east coast distribution centers. For more information on where to purchase these products or how to become a distributor, please contact GREEN CREATIVE at [email protected] or call (866) 774-5433.
About GREEN CREATIVE
GREEN CREATIVE is a major solid-state lighting development and manufacturing company headquartered in central Florida. The company specializes in providing high-quality lamps, downlights, and track and fixture lighting solutions for the commercial, residential, and industrial markets. GREEN CREATIVE is fully integrated with strong R&D capabilities to consistently offer the latest technology. Visit www.greencreative.com for more information. Follow GREEN CREATIVE on Facebook, Twitter, and LinkedIn or YouTube for all the latest updates.