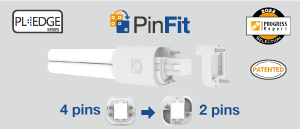 GREEN CREATIVE drives evolution in retrofitting with PinFit PL Omni lamps
SANFORD, FL, September 22nd, 2022 – GREEN CREATIVE is proud to introduce PinFit PL Omni, an innovative series of compact fluorescent replacement LED lamps.
"PinFit PL Omni drives evolution in retrofitting" said Devin Jernigan, Vice President of Product Management and Marketing. "The addition of these lamps proves again how our innovation can continuously bring value to our customers. Proudly selected in this year's IES Progress Report, PinFit PL Omni is designed with our patented modular socket design, maximizing installation flexibility in the field."
The revolutionary modular socket design of PinFit PL Omni allows for easy switching of the lamp socket from G24q (4 pin) to G24d (2 pin) in the field. An embedded universal driver allows the PinFit PL Omni to perform with electronic ballasts at 4 pin mode, and magnetic ballasts or no-ballast environments at 2 pin mode, providing optimal field flexibility for both DIRect and BYPass installations with only one lamp. Eliminate ballast compatibility issues, greatly reduce the time to audit a space, and optimize stock management costs.
PinFit PL Omni can be installed either vertically or horizontally with 360° omni-directional light distribution, creating a uniform and pleasant lighting effect equivalent to fluorescent lamps.
The series of lamps are available in 6.8W and 9W models, four color temperatures of 2700K, 3000K, 3500K and 4000K options, and are suitable for replacing most 13W-26W CFLs with G24d, GX24d, G24q and GX24q bases. All the lamps are UL classified for both direct and bypass installations, with an L70 rated lifetime of 50,000 hours and a 5-year warranty guaranteed.
Detailed information and datasheets for PinFit PL Omni is available at  https://greencreative.com
For more information on where to purchase these products near you or how to become a distributor, please contact GREEN CREATIVE at: [email protected] or (866) 774-5433.
About GREEN CREATIVE
GREEN CREATIVE is a major solid-state lighting development and manufacturing company headquartered in central Florida. The company specializes in providing high-quality lamps, downlights, and track and fixture lighting solutions for the commercial, residential, and industrial markets. GREEN CREATIVE is fully integrated with strong R&D capabilities to consistently offer the latest technology. Visit www.greencreative.com for more information. Follow GREEN CREATIVE on Facebook, Twitter, and LinkedIn or YouTube for all the latest updates.