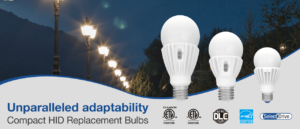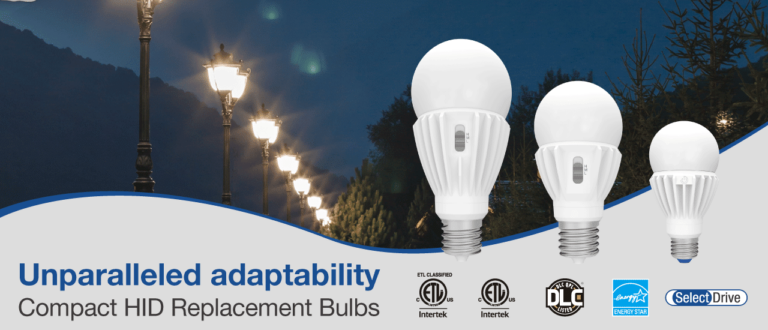 GREEN CREATIVE Modernizes Lighting with a New Series of Compact HID Replacement Bulbs
SANFORD, FL, January 20th, 2022 — GREEN CREATIVE, your partner for professional lighting solutions, is proud to introduce a versatile new series of compact HID replacement bulbs featuring an integrated SelectDrive switch for complete field flexibility.
"This modern series of HID replacement bulbs brings unparalleled adaptability to lighting applications," said Devin Jernigan, Vice President of Product Management and Marketing. "The highlight is the integrated SelectDrive switch, which is offered on 24-watt and 34-watt bulbs."
During field installation, designers often find the standard light levels just don't suffice. Default "on" settings can be too bright or not bright enough, or the designer may want lamps on the same circuit to emit different amounts of light.
SelectDrive solves this problem. Lighting professionals may alter the light output by flipping the lumen-adjustment switch on the bulb. This feature adds flexibility and simplicity to lighting design.
Bulbs in the HID replacement series feature an embedded thermal sensor. If the lamp's ambient temperature exceeds the threshold level, power is reduced, extending the product's lifetime. Smooth dimming in E26 bulbs means lower energy costs and greater flexibility in design.
All lamps in this series incorporate a compact design, making installation easy in bollards, canisters, and enclosed streetlights.
With light output ranging from 2,000 to 5,000 lumens, this GREEN CREATIVE series offers more choices of brightness than comparable HID replacement series.
The series offers 3000K, 3500K, 4000K and 5000K color temperatures. Lamps are available in A21, A23 and PS30 size, and all are suitable for damp locations and completely enclosed fixtures. EX39 versions are DLC listed and E26 versions are ENERGY STAR certified. With an L70 rated lifetime of 50,000 hours, each lamp is guaranteed with a 5-year warranty.
Detailed information and datasheets for all products are available at www.greencreative.com.
For more information on where to purchase these products near you or how to become a distributor, please contact GREEN CREATIVE at: [email protected] or (866) 774-5433.
About GREEN CREATIVE
GREEN CREATIVE is a major solid-state lighting development and manufacturing company headquartered in central Florida. The company specializes in providing high-quality lamps, downlights, and track and fixture lighting solutions for the commercial, residential, and industrial markets. GREEN CREATIVE is fully integrated with strong R&D capabilities to consistently offer the latest technology. Visit www.greencreative.com for more information. Follow GREEN CREATIVE on Facebook, Twitter, and LinkedIn or YouTube for all the latest updates.